Dr. Madhumita Mukhopadhayay
Assistant Professor (C)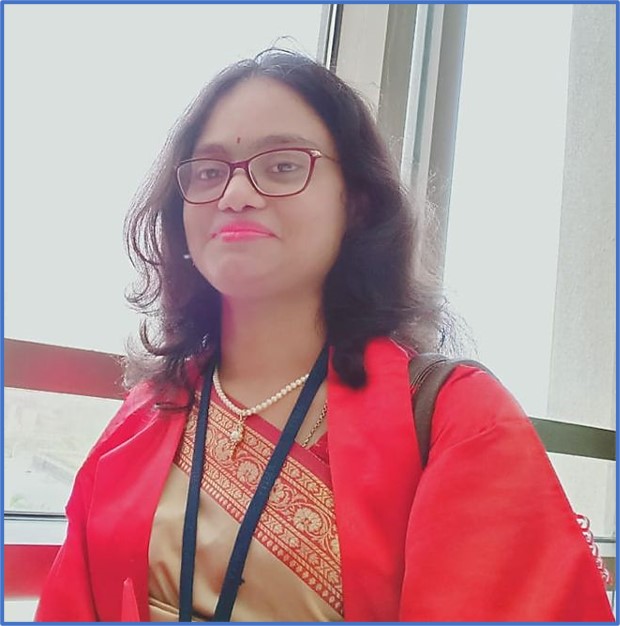 9433882877
Department of Materials Science & Technology, Maulana Abul Kalam Azad University of Technology (MAKAUT), West Bengal, Simhat, Haringhata, 741249, Nadia, West Bengal, India
Qualification:
PhD from Jadavpur University
M. Sc from Department of Chemistry, University of Calcutta
Research Area:
About Dr. Madhumita Mukhopadhayay
Fields of Research Interest
Renewable energy (Fuel cell, sensors, electrolyser cell, Perovskite Solar cell).
Polymer electrolyte membrane & electrode assembly. High energy perturbed macro/small molecules. Functional nanomaterials and applications
Electrochemistry, Materials Processing, Inorganic hybrid materials, Inorganic- Macromolecular (protein) association
Awards / Recognition:
Awarded with National Eligibility test (NET) CSIR – 5 year scholarship for the year 2007 in Chemical Sciences & CSIR-RA in 2013

Best poster award in "Photometric study of the interaction of Zinc (II) Complexes of Schiff bases with Cetyl trimethyl ammonium bromide." National Conference on Exotic Materials and Devices (NCEMD-2019). January 8th-9th 2019. Department of Physics (MMV), Banaras Hindu University, Varanasi – 221005.

Awarded outstanding Reviewer's Certificate by Material Chemistry and Physics (2018) and Material Science and Engineering B (2016).

Editorial Board member for the Journal- Research International Journal of Chemistry and Analytical, Bioanalytical Chemistry. MSD Publications.2020

Editorial Board member for the Journal- Research International Journal of Energy & Environmental Sciences- MSD Publications.

Research Excellence Award 2020 by Institute of Scholars
Editorial Board member for the Journal- Yuzuncu Yil University Journal of the Institute of Natural and Applied Sciences, from April 2022

Positions:


Ph.D. positions are available for CSIR/UGC-NET qualified candidates with Chemistry/Material Science/Experimental Physics background. Interested candidates are encouraged to send their CV with a cover letter directly to the following email ID (madhubanerji@gmail.com)

Funding:

UGC-IUAC for experimental Research

Patents
1. Rajendra Nath Basu, Madhumita Mukhopadhyay, Jayanta Mukhopadhyay and Abhijit Das Sharma; "Improved Process For The Prepartion Of Planar Anode-Supported Solid Oxide Fuel Cell", Indian patent,Patent no. 302932. August 17th 2017. Granted.06. 11.2018.

2. Soumyaditya Sutradhar, Abhik Sinha Mahapatra, Koustav Das, Madhumita Mukhopadhyay, "Ferroelectric and Magnetic Orderings in Hexaferrite-Mullite Type-II Magnetoelectric Multiferroic compounds". Provisional Indian Patent filed. 202111037241. August 17th 2021.

3. Parna Chakraborty, Akash Sil, Madhumita Mukhopadhyay and Debosreeta Bose, "Photophysical Process of novel 2-hydroxy-3-naphthaldehyde thiosemicarbazone and 2-hydroxy-3-naphthaldehyde semi carbazone". Provisional Indian Patent filed. 202111051468. November 11th 2021.

Publications
Google Scholar
Researchgate